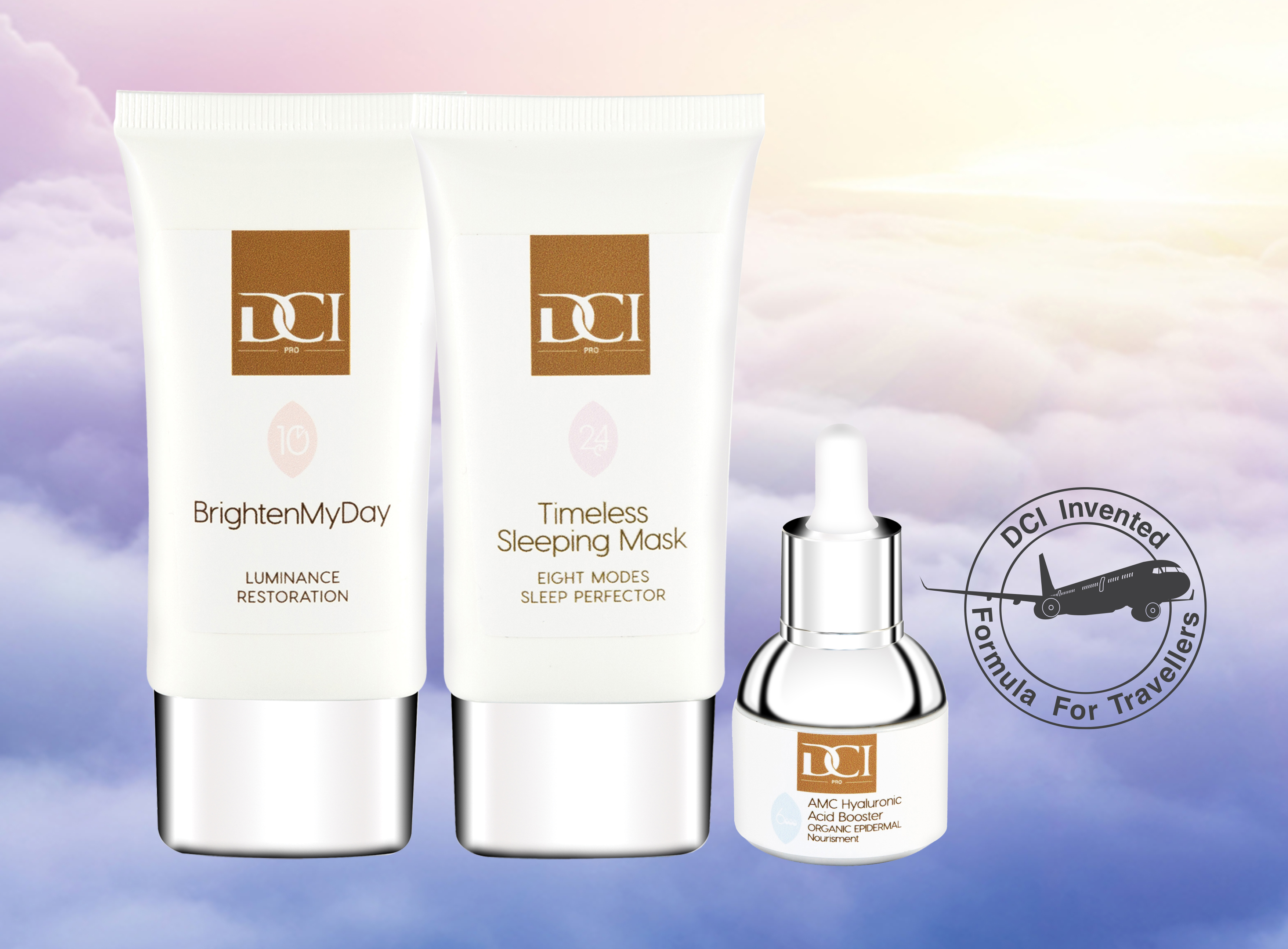 DCI PRO's 3-Part
Protection System
DCI PRO's 3-part protection system provides complete skin-care protection for when you travel. Here's how our products work together:
STEP 1: Brighten My Day
Brighten My Day removes unsightly dead cells and hydrates the skin that will give you skin glow and skin health.
Brighten My Day does it gently and you can use it daily. After 10 min of Brighten My Day, your skin will be ready to absorb nutrients and allow DCI PRO's AMC Hyaluronic Acid Booster or the Timeless Sleeping Mask to work on your skin.
For optimal results, use a soft face cloth to gently rub in a circular motion on your skin when rinsing off your Brighten My Day application.
Brighten My Day is suitable for all skin types, even for sensitive skin.
STEP 2: AMC Hyaluronic Acid Booster
AMC Hyaluronic Acid Booster adds volume and buoyancy instantly to activate skin cells. Your skin will instantly become radiant and hydrated for up to 24 hours.
The AMC Hyaluronic Acid Booster is suitable for normal, dry and mature skin types.
STEP 3: Timeless Sleeping Mask
Due to environmental stress factors, skin cells become weak, sensitive and eventually age prematurely. Timeless Sleeping Mask is a magical 8-action sleep protector & rejuvenator that is an essential cream for all travellers. The Mask normalises and strengthens your skin by continuously soothing, hydrating, repairing and protecting our cells to optimize our overall skin balance and can be left on your skin for up to 24 hours. It also leaves your face fresh upon applying and does not leave your face feeling oily or sticky. The Mask, while ideally works best when we sleep, can also be used during the day as well to keep your skin barrier up for longer periods of time.
The Timeless Sleeping Mask is suitable for all skin types, even for sensitive skin.